Warning
: Missing argument 2 for wpdb::prepare(), called in /home/content/43/5045543/html/newsite/wp-content/plugins/sharebar/sharebar.php on line 112 and defined in
/home/content/43/5045543/html/newsite/wp-includes/wp-db.php
on line
1195
Warning
: Missing argument 2 for wpdb::prepare(), called in /home/content/43/5045543/html/newsite/wp-content/plugins/sharebar/sharebar.php on line 124 and defined in
/home/content/43/5045543/html/newsite/wp-includes/wp-db.php
on line
1195
The 1963 March on Washington, police dogs attacking protesters in Selma, Rosa Parks refusing to give up her seat on a bus in Montgomery,  are some of the famous images in civil rights history.
In that same tradition, the images of a small group of LGBT veterans who handcuffed themselves to the gates of the White House in protest of "Don't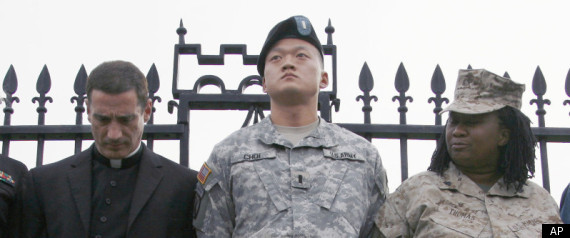 Ask, Don't Tell," will forever be remembered as one of those famous moments of civil disobedience.
In an exclusive interview with NoMoreDownLow.TV,  Cpl. Evelyn Thomas of The Sanctuary Project, recalls the events of a day that will go down in history.